Logan
Logan is 17 years old and very close to turning 18.  He is very level headed, studious and responsible.  He garners respect among his brothers and sisters as well as his peers at school. He is actively investigating colleges and trying to find the balance during his senior year between his studying, wrestling and a social life.  He learned how to work hard during the summers he spent working on the family ranch and applies the discipline he gained to all the things he undertakes.  He likes to read and he used to spend a great deal of time drawing and experimenting with different artistic mediums like clay.  Many of our younger children are already heartbroken that he may soon be leaving  home to attend school.

Aspyn
Aspyn is 16 years old and is a Pisces, wanting to help everybody.  She loves to drive, but doesn't like people to criticize her driving.  She works as a file clerk in a law office.  Her biggest wish right now is to own a yellow jeep, any year is fine.  She has promised that if she gets a yellow jeep for her birthday she will stay home and go to school here at UNLV.  She loves Glee and especially Darren Criss (Blaine).  She has been to a few Recycled Percussion concerts and loves them.  She loves the old fashioned movies like Pride and Prejudice, Emma, Persuasion and Sense and Sensibility.  Her favorite musical artist is Bruno Mars.  She is very social and loves hanging out with her friends.  She loves to goof off and post stuff on Twitter and Facebook that are not really true, just to see how people will react.  She has a fantastic sense of humor and always keeps people on their toes.

Mariah
Mariah is sixteen years old and is enjoying her junior year of high school. This past season she played on the tennis team for the first time, and was very excited at the end of the season when she found out she lettered in it. She does very well in school and was recently inducted into the National Honor Society. She enjoys her hobby of photography, and is very good at it. She likes to take pictures of her family (Ysabel is her favorite model), and also anything that looks cool, from flowers, to old cars, to staples on a light pole. She recently finished reading the Hunger Games series and is very impatiently waiting for the movie to come out, because, as she puts it, it is going to be AWESOME! She also recently discovered a band, "He is We", and is pretty into them. Mariah still has plans of fulfilling her childhood dream of becoming a doctor, and recently decided that she wants to be a pediatrician, since she is so good with kids. She is currently working on getting a job, she says because she needs more to do with her life. Mariah tries to go back to Utah as often as possible to spend time with her friends there, but she really enjoys spending time with her new friends here in Vegas as well. Of course, as always, she loves hanging out with her "awesomely awesome" brothers and sisters.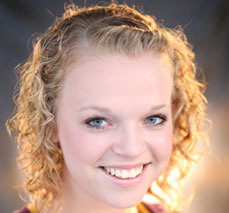 Madison
Madison is 16 years old.  She constantly amazes her mom at the level head and "I'm not taking any of your crap…" attitude she has developed.  She and her mom have very frank and interesting conversations on a huge variety of subjects.   She is beautiful inside and out and works very hard in school.  Her favorite subject is English because she loves her teachers.  Her favorite artist is Shontell, with particular favorite song "Impossible".  Chicken Alfredo is her favorite meal.  Her plans for the future include going to college to get her MBA in business.  She is an entrepreneur and plans on opening many of her own businesses.  She looks for friends who are loyal, caring and nice.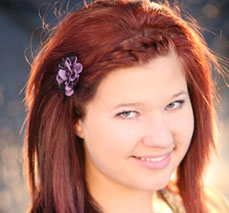 Mykelti
Mykelti is 15 years old and does not want to get her driver's license permit.  Her passion is fashion! She is going to go enroll in summer school and night classes during her junior and senior year in high school to complete her Associates degree. After graduating and receiving her Associates she wants to New York to attend the Institution of Art and Design.  Then she is moving to Paris to complete her fashion training.  While working on her training in Paris she is going to be a tour guide for English speaking people.  If there was a movie about her life she wants Bryce Dallas Howard to play her.  Her favorite band is Escape the Fate. Her favorite artist is Katy Perry.  She really wants a big black Ford F450, after she gets her driver's license, of course.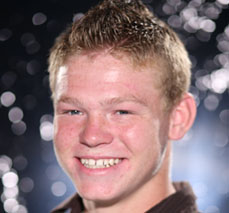 Hunter
Hunter's nickname at home is "Hunter-man".  He is all boy.  He had a huge growth spurt after we moved to Las Vegas and excels in any athletic undertaking he tries.  Hunter is 15 years old and attends high school and is an important part of his high school's football team. He has a very soft side though and dotes on Christine's daughter Truely.  Hunter is a good student and maintains good grades.  In five years he sees himself attending college, any college that gives him a football scholarship.  His favorite subject in school is history.  He can power clean (a weight lifting move) 205 pounds 6 times.  He is naturally athletic and excels at any sport he tries.  If he were to be a character in a movie it would be Tony Stark in Iron Man So he could have all the money he wants.  He is fiercely protective of those he loves.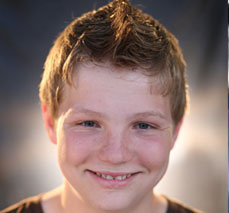 Garrison
Garrison loves playing XBOX and Lacrosse.  He works hard to be interested in school.  Garrison's favorite movies are the Star Wars trilogy and he loves to eat breaded chicken patty sandwiches.  He has a funny sense of humor and a clever way of looking at the world.  His timing on telling jokes is amazing, he always has his family laughing.    If he was going to be an animal he would be an alligator, eating and stomping everything in sight.  If he was going to be in a movie, he would like to be Iron Man because he would be incredibly rich and travel the world.  He would choose Arnold Schwarzenegger to play him in a movie about his life.  He wants to be an archaeologist when he grows up, he loves the study of people and cultures.  His favorite subject in school is geology.  If he were to make a movie on a natural disaster he would choose a collapsing plateau.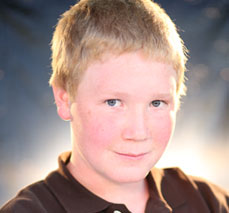 Paedon
Paedon is 13 years old and he loves playing on his XBOX.  He bought the XBOX himself after working on a ranch for the summer and earned it by behaving like a gentleman. He works hard to keep his grades up to keep XBOX privileges.  His favorite movie hero is Optimus Prime, and his favorite villain is Venom.  He loves to read Halo and Calvin and Hobbs.  His favorite animal is a frog.  He really wants a huge house for all of his family to live in with a big yard.  He wants a bunch of cars in a huge garage.  He would want to be the Predator if he was to star in a movie.  In a movie about his life, he would want Johnny Depp or Hugh Jackman to play him.  He just started playing Lacrosse with Garrison and loves it.  He has a dog named Samantha who, unfortunately, is very bored in our tiny Vegas backyard.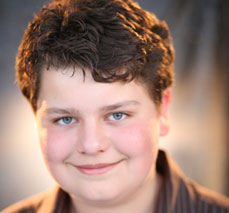 Dayton
Dayton is 12 years old and he attends middle school. His passion is CARS! His favorite are Italian cars, like Pagani, Ferrari, and Mazarati.  He also likes muscle cars.  He is a walking encyclopedia of information about cars, engines and upgrades.  His favorite subject in school is Art, Reading and P.E.  He is an incredible artist and draws with great detail.  He has a great sense of humor and loves to text his family witty things.  When he grows up he wants to be a C.E.O. of his own car company where he would make all types of cars.  In the future he looks forward to getting old enough to get his own car and start his own company.  He wants to own a Pagani Huayra when is older.  When he is 17 years old he will be in high school working on following his dream and becoming a C.E.O. of his own company or designing cars.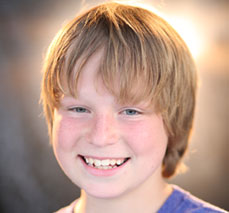 Gabriel
Gabriel is the most persistent child we have ever known.  He truly believes he will always get his way if he asks enough times.  The family believes he will someday make a good salesman, bill collector or even a lawyer.  He is intelligent and a very good student.  HE has been reading way above his level for years and expresses himself intelligently.  He understands plots of movies and books as quick as an adult.  He can pull together costumes for school events at the drop of a hat from things laying around at home.  Most likely, he will be that quirky smart kid who invents an important cure for something.  At this point he dreams of being in the Air Force.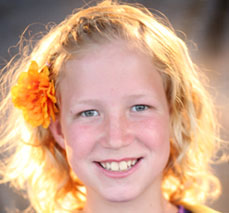 Gwendlyn
Gwendlyn is 10 years old and her favorite movie is Van Helsing.  She is a Libra and likes everything to be fair.  Her favorite food is beef bacon and any salad without tomatoes and onions.  She HATES all kinds of squash and onions.  Her favorite song is One Hundred Years by Five for Fighting.  She wants to become an artist and an architect.  She loves to read all the Diary of a Wimpy Kid series, and is in the process of reading The Miraculous Journey of Edward Tulane.  She wants to join karate, ride a dirt bike, have a beautiful garden with no weeds, and own a boat with a lake too.  If she were to be in a movie she wants to be Anna in Van Helsing.  Her favorite animal is an elephant.  She had to do a report on elephants in the 3rd grade and built an amazing habitat.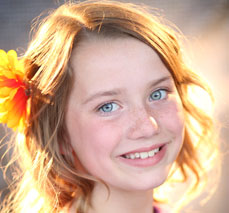 Aurora
Aurora is 9 years old, she is almost 10 though.  Her favorite color is blue and she loves Orcas.  She is athletic and loves to swim.  She is very creative and kind.  She LOVES babies!  She is responsible and is a great big sister to Solomon and Truly.  When she grows up she wants to be a baker, a pop-star, or an explorer.  Her latest dream is to meet Buddy the Cake Boss!  She wants to go to Canada and other countries.  Her favorite thing to do is to play with her sisters.  She loves music!  She is taking piano lessons and is in the choir and instrument assembly at school.  Her favorite song is Twist My Hips.  She loves to dance!!  She is 5'2" and she is one of the tallest in her class.  She loves school and is an excellent student; her favorite subject is Math, definitely, by far!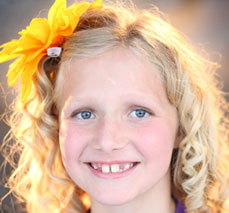 Ysabel
Ysabel is 8 years old and she loves lasagna.  She is a Gemini, with two distinct personalities.  She loves watermelon and bacon too.  Her favorite movie is Soul Surfer.  She really, really wants to go to Hawaii to meet Bethany Hamilton.  For Halloween she dressed up like her idol, Bethany Hamilton.  She loves pandas and horses and kitties.  She wants to go to Disneyland and Paris.  If she was going to be in a movie she would want to star as Bethany Hamilton even though it means she would have to lose her arm!  Her favorite Disney princess is Snow White because she comes back to life when the prince kisses her.  Her hero is her Dad.  She wants to be a teacher.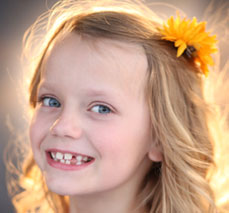 Breanna
Breanna is only about  8 years old but she has pizazz!  Her favorite color is purple and her favorite animal is a horse.  She can be very shy or very brave and bold!  She loves to dance and sing.  You should hear her voice!  She is taking piano lessons with her big sister Aurora.  She wants be in gymnastics and take ballet too.  She loves to play dolls, draw and write notes to her family with her sisters (the other pixies).  Her nickname is BB or B.  She adores her baby brother Solomon and thinks he is hers.  She wants to be an artist or a professional dancer when she grows up.  Her favorite subject is PE.  Her favorite food is Ramen Noodles (even though her mom won't buy them unless it is her birthday).  She loves the show Victorious on Nickelodeon.  She loves American Girl dolls and it is her secret wish to get one for her birthday.  Her sweet light hearted spirit is contagious and makes her mommies and daddy smile every day!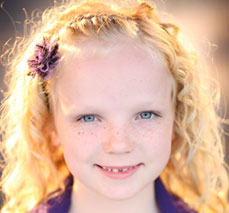 Savanah
Savanah is Janelle's baby.  As is usual with the baby, Janelle's other kids complain that she is spoiled, but really, she just knows how to work the system and get what she wants.  It is her best quality.  She is very emotional and has tender feelings even about trivial things.  She is one of the "Pixies" in our family.  Her favorite princess is Aurora and her favorite prince is Prince Charming.  She loves to give creative gifts and at all our birthdays and Christmas her gifts are thoroughly enjoyed.  Usually they are drawings on paper, cards and cardboard boxes.   She frequently writes notes to all of the moms and siblings telling them how much she loves them.  She adores her sisters and it is a sad weekend when she can't sleep over at one of their houses due to scheduling conflicts.  She loves to eat fried chicken and her favorite animal is a cat because they are cute.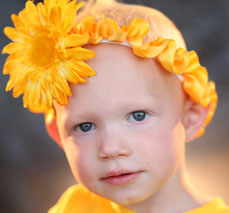 Truely
Truely is a love muffin.  She is 19 months old and she is an Aries.  She is still bald.  She loves to dance and sing.  She speaks all the time but is rarely understood.  Her best sentences are, "go away", "I want that", "shut up", and "open door".  She gives wonderful, slobbery kisses to her family.  She loves to be the center of attention and just waits for everyone to adore her.  Her worst habit is her screaming, it could probably break glass.  Her favorite animal is a monkey and her favorite movies are Dora and Baby Einstein.  Her favorite toy is a musical seahorse.  Her favorite person is her mom.  She also adores Hunter, Mykelti, and Mariah.  She calls Mykelti and Ysabel, "sissy".  She has some seriously darling dance moves always accompanied with pumping arm actions.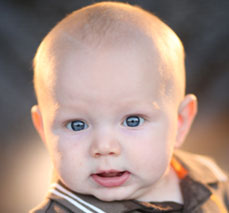 Solomon
Solomon was born October 26, 2011 and is the youngest of a very noisy bunch of brothers and sisters and he fits right in!  He is very social!  He loves to coo and babble to anyone who will listen, especially his daddy.  Whenever his daddy comes into the room Solomon locks his eyes on him and waits until he gets some attention from him.  He is a very good natured, chunky, cuddly boy!  He either sits and looks unimpressed or smiles and talks. He almost weighs as much as his big sis Truely!  They have a sweet bond.  Truely calls him baby Sol.  He loves his mommies….all of them!  He is happy in any one of their arms.  All of his family love to hold him and get him to smile.  It will be a miracle if he doesn't end up spoiled.  He is very loved!